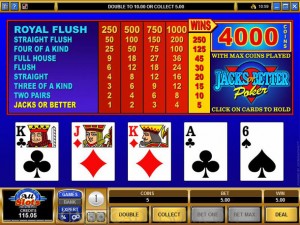 Poker is one of the most famous casino games offered. Video Poker on the other hand can be played online and against the computer. This is a unique kind of poker as the skills and the bonuses and prizes make a special combination and a very exciting game.
Video Poker is the easiest poker you can play. You do not play against other players but you just need to make a high card and you will get paid. The main objective of this game is to make the highest possible poker hand.
How do you play? Easily!
You put a coin into the video poker machine of your choice like a slot machine. The game then gives you five cards. From those five cards you have the chance to change anyone you want, all or none of them. After making a hand combination you get paid.
There are many benefits of video poker games so let's have a look at them.
1. You don't play with opponents so you have time to think carefully and play wisely. The times give you the chance for you to relax and enjoy the game.
2. Video poker winning is controlled by you and the combination you are making on your own.
3. Video poker can last longer in time and it can be as slow as you want it.
4. These poker games offer jackpots and bonuses as in slot machines.
You have to try both video and live poker and choose the game that suits you. Playing poker in the old fashion way or even on screen is a thrilling experience.